Thursday | 13 February | 2020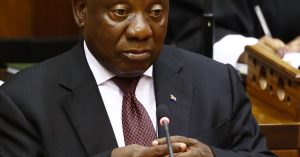 In response to Pres. Cyril Ramaphosa's State of the Nation Address, the Solidarity Movement today confirmed that, despite certain dubious intentions and promises made, it would continue to build community institutions and projects to ensure a free, safe and prosperous future for its members in South Africa.
The Movement, which consists of around 18 institutions, stated that while Pres. Ramaphosa has given the assurance that obstacles would be removed so that the private sector could thrive, and that state spending would be curtailed, government is still committed to implement policies that will cause irreversible damage to the economy such as expropriation without compensation and the implementation of national health insurance.
The Movement also believes that the ANC's ideological rationale to give effect to the National Democratic Revolution by giving the state more power and by centralising more clashes directly with certain intentions revealed in the speech.
According to Francois Redelinghuys, communications manager of the Movement, the Movement is committed to make South Africa successful as a whole, and that the future cannot be left only to the government. "The government's failures are clear for all to see. The decline in education, economic growth, safety, power supply and unemployment are merely a few examples of this since the previous State of the Nation Address," Redelinghuys said.
"The SONA merely confirmed to the Movement once again that a future must be secured through community institutions rather than state dependence," Redelinghuys concluded.