Monday | 03 February | 2020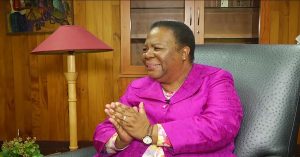 The Solidarity Movement today welcomed the Dutch Foreign Minister Stef Blok's request directed to the South African government to provide more information on the proposed expropriation of land without compensation.
Blok's request for more clarity on the proposed amendment to the South African Constitution as well as the concerns associated with it was addressed to the South African Minister of International Relations and Cooperation, Naledi Pandor. This comes after the Dutch parliament last year passed a motion in which that parliament expressed its concern over the proposed land expropriation without compensation in South Africa. The motion also instructed the Dutch government to convey its displeasure about the matter to the South African government.
According to Jaco Kleynhans, the Solidarity Movement's head of international liaison, the Movement held talks with six political parties in the Dutch parliament last year. The outcome of the liaison was that the motion was proposed by two parties and accepted by a majority of members of parliament. "Since then, we have been engaging with Dutch politicians on an ongoing basis to ensure their government would pressure the South African government as far as this matter is concerned."
According to Kleynhans, the South African government is conducting a campaign abroad to pacify and deceive so as to reassure its trade partners about the proposed constitutional amendments. "We also visited the European Parliament in Strasbourg in November last year and had discussions with 14 political parties in seven countries in Europe. It was clear that the South African government was trying to placate European governments and politicians about the proposed amendments to the Constitution.
The Solidarity Movement is also approaching the parliaments of other European countries as well to initiate similar motions against the proposed constitutional amendment. AfriForum, which is part of the Solidarity Movement, will visit the USA later this month to raise awareness for, among other things, the planned amendments to the constitution. "Our goal is to convince as many foreign countries as possible to pressure the South African government not to proceed with the constitutional amendments. Land expropriation without compensation and a further erosion of property rights in South Africa will lead to more severe economic problems for our country. Foreign investment will be further prejudiced," Kleynhans concluded.