Tuesday | 29 June | 2021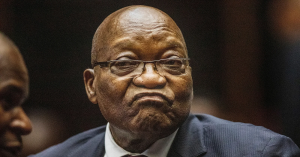 The Solidarity Movement today welcomed the Constitutional Court's ruling in terms of which Jacob Zuma was found guilty of contempt of court and was sentenced to imprisonment of 15 months.
According to Flip Buys, chairperson of the Solidarity Movement, Jacob Zuma's conviction is a first step to let justice prevail against a former president who has dragged the country to the brink of the abyss  although cases against him are still pending for decades of offences.
Buys furthermore said that although this ruling should be seen in a positive light, much still needs to be done to restore the confidence of South Africans. "The fact of the matter is that South Africa is still plagued by unprecedented high levels of corruption that have been evident as recently as last year with the shameless looting of funds destined for aid. The real test will depend on whether or not this political elite can also be prosecuted successfully," Buys said.
Buys further stated that the response to the ruling does indeed reflect South Africans' collective feelings about the ruling elite that are disregarding the law with impunity. "Hopefully, this could usher in an era in which more accountability is expected from politicians and government officials," Buys said.
According to Buys, the Movement is however skeptical whether Zuma would hand himself over and if not, whether he would be arrested. "It is widely known that Zuma and his followers still have several supporters within the ruling party. If Zuma does not hand himself over, deliberate action must be taken to effect his arrest," Buys concluded.