Wednesday | 22 July | 2020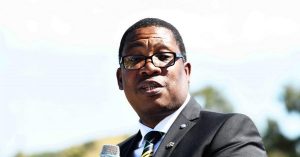 The Solidarity Movement today confirmed that it will accelerate its plans to establish educational institutions with Afrikaans as the medium of instruction. This follows after the MEC of Education in Gauteng, Panyaza Lesufi, in the National Council of Provinces (NCP) criticised a full bench of the Court of Appeal's ruling on Afrikaans at Unisa. In the same speech, he also criticised Solidarity's existing private institutions.
According to the Chiarperson of the Solidarity Movement, Flip Buys, the Constitutional Court, by mouth of Chief Justice Mogoeng Mogoeng, in its ruling in the Stellenbosch language case, called on the community to build private educational institutions themselves, for the advancement of Afrikaans and other indigenous languages, in terms of section 29(3) of the Constitution. Chief Justice Mogoeng even called on corporate goodwill to make resources available to help fund private educational institutions for Afrikaans and other indigenous languages.
"Chief Justive Mogoeng's request that communities must build their own institutions and finance it themselves to promote language is thus exactly what the Movement is doing within the framework of the Constitution," said Buys. He emphasised that Chief Justice Mogoeng's ruling builds on several similar views by the Constitutional Court in favour of Afrikaans and Afrikaans institutions for higher education.
"Super language"
According to Buys, it is ironic that during the NCP debate, Lesufi warned there should be no "super language" and that all languages should be equal, while deliberately and zealously continuing to undermine recognised indigenous languages so that English continues to exist as the only "super language" as medium of instruction at educational institutions. "The Solidarity Movement, unlike the MEC, advocates the principle of multilingualism and therefore encourages any community to promote their language by establishing educational institutions. The Movement is also willing to work with any community to achieve this," said Buys.
He also emphasised that the Movement's educational institutions aims to be world-class in Afrikaans. "The aim is not to exclude others or isolate Afrikaans students, but to create an Afrikaans space where it is possible for young people to live together in South Africa to the benefit of all its people and the country. The goal is also not to exclude, but to ensure that Afrikaans as academic language and Afrikaans students are included. These institutions are also open to any student who does not speak Afrikaans as mother tongue but who would like to study in Afrikaans.
Cultural infrastructure 
The International Law and the Constitution's point of departure is that language and cultural communities have the right to exist and to survive, and they may have institutions that carries its language and culture over to the next generation. Any attempt to deny them this right, is a totalitarian attempt to destroy those communities. Therefore, the Solidarity Movement's educational institutions are part of our strategy to build the necessary cultural infrastructure needed for Afrikaners to live free, safe and prosperous in South Africa. The Constitution's point of departure is exactly unity in diversity, and therefore efforts to enforce uniformity or to incorporate minorities into the majority, will be opposed with all force.
"Democracy without cultural freedom, is only freedom for the demographic majority and thus not democratic. Therefore, activist politicians who are trying to transform the multicultural reality of the country to a monocultural ideology fitting their political image, may not be allowed to conduct a witch hunt against Afrikaans and its speakers for the sake of cheap publicity. It is a transparent attempt to divert attention from the major educational crisis in the country, in which Mr. Lesufi has a huge share," Buys said